There are a number of ways to reconnect with your partner, but a couple's massage is one of the best. The relaxing nature of a massage taken together is one of the most underrated things to do to release stress, encourage intimacy, and improve your overall wellbeing as a couple. During your next stay at Villa del Palmar at the Islands of Loreto, be sure to take advantage of the scintillating massages for couples at the Sabila Spa; a sure way to reap the benefits of a highly relaxing and connected activity.
What type of massage is best for couples?
Swedish, deep-tissue, aromatherapy, and reflexology massages are considered the best for couples receiving treatments together because they are the most relaxing and the serene ambiance of these types of massages elevates the intimacy in the room. They are known to help clients release the "love hormone" oxytocin, which means love is literally floating in the air, helping couples to feel more connected.
Is a couples massage a good idea?
If you're looking to spice up your relationship, reconnect with your loved one, or simply relax in a highly intimate setting, then a couple's massage is a great idea. If you've never had one before, it is a great way to experience the thrill of doing something new together, which can help beat the monotony of routine dates that can come with always going to dinner or the movies. It is also a great way to spend time together. When you leave a couples massage, you'll feel more connected and relaxed, and likely ready to embrace more adventures together.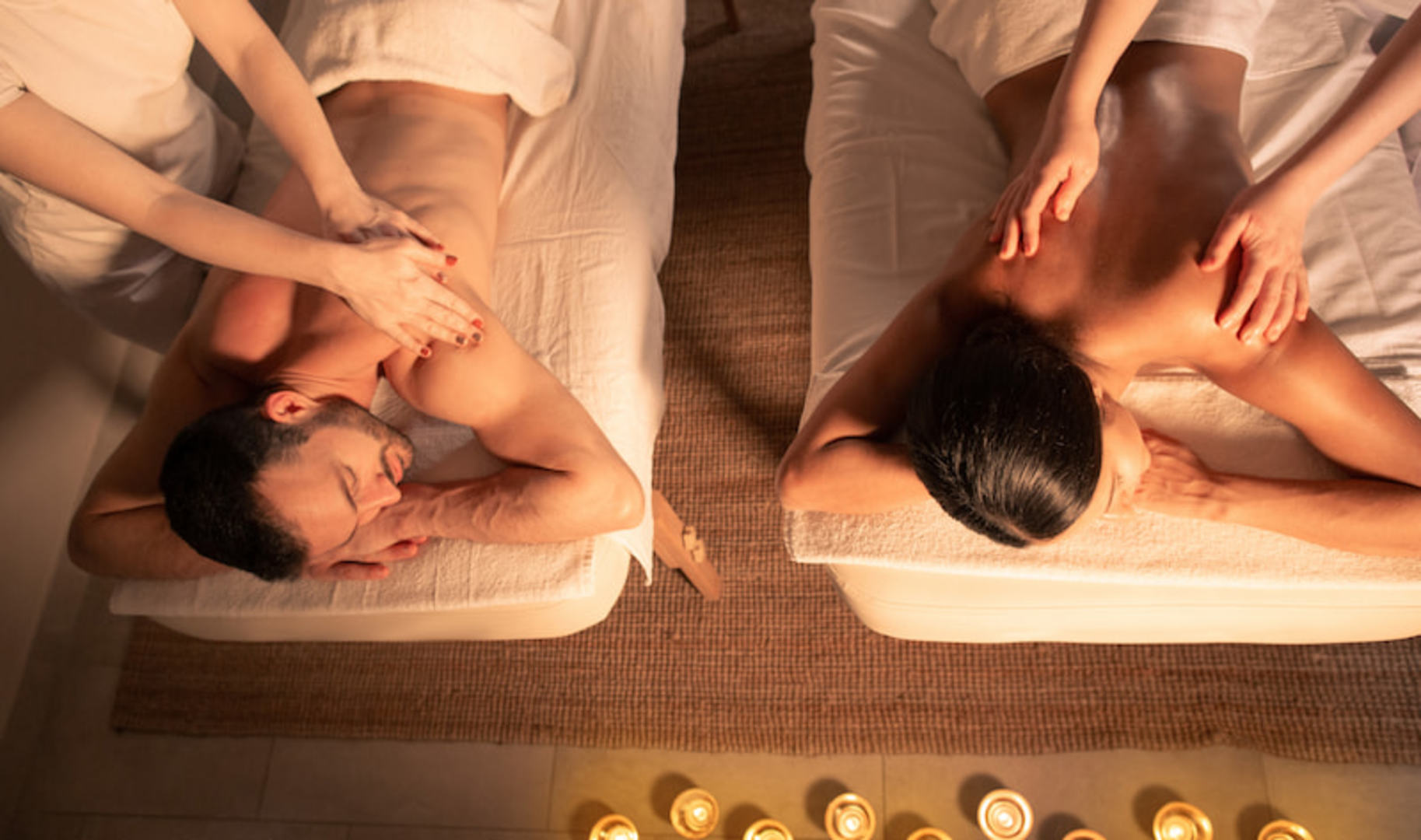 The Benefits of a Couples Massage
1. Avoid the Tension
A massage is like a mini-vacation you can take together to get away from the stress of work, raising children, or feeling like you have to hash out the issues in your relationship.
2. Heightened Positivity and Connectedness
Getting a massage stimulates certain hormones, such as oxytocin, dopamine, and serotonin, which are known to improve your mood and make you more affectionate with those around you.
3. Enhanced Sexual Apetite
In addition to the feel-good effects of a massage, they also serve to be enhance your sexual desire, meaning you may both be more inclined to retire to your room after your couples massage.
4. It's a Learning Experience
When you get a massage, pay close attention to what feels good and the techniques the therapist uses on your body. Use the experience as a catalyst for conversation about what you and your partner like. Not only does this serve to improve communication in your relationship, but it can help you physically connect as well.
5. Decreased Feelings of Anxiety
After a massage, you'll likely feel less stressed and a decreased level of anxiety, both benefits that can make you more relaxed around your partner and up for experiencing other adventures together.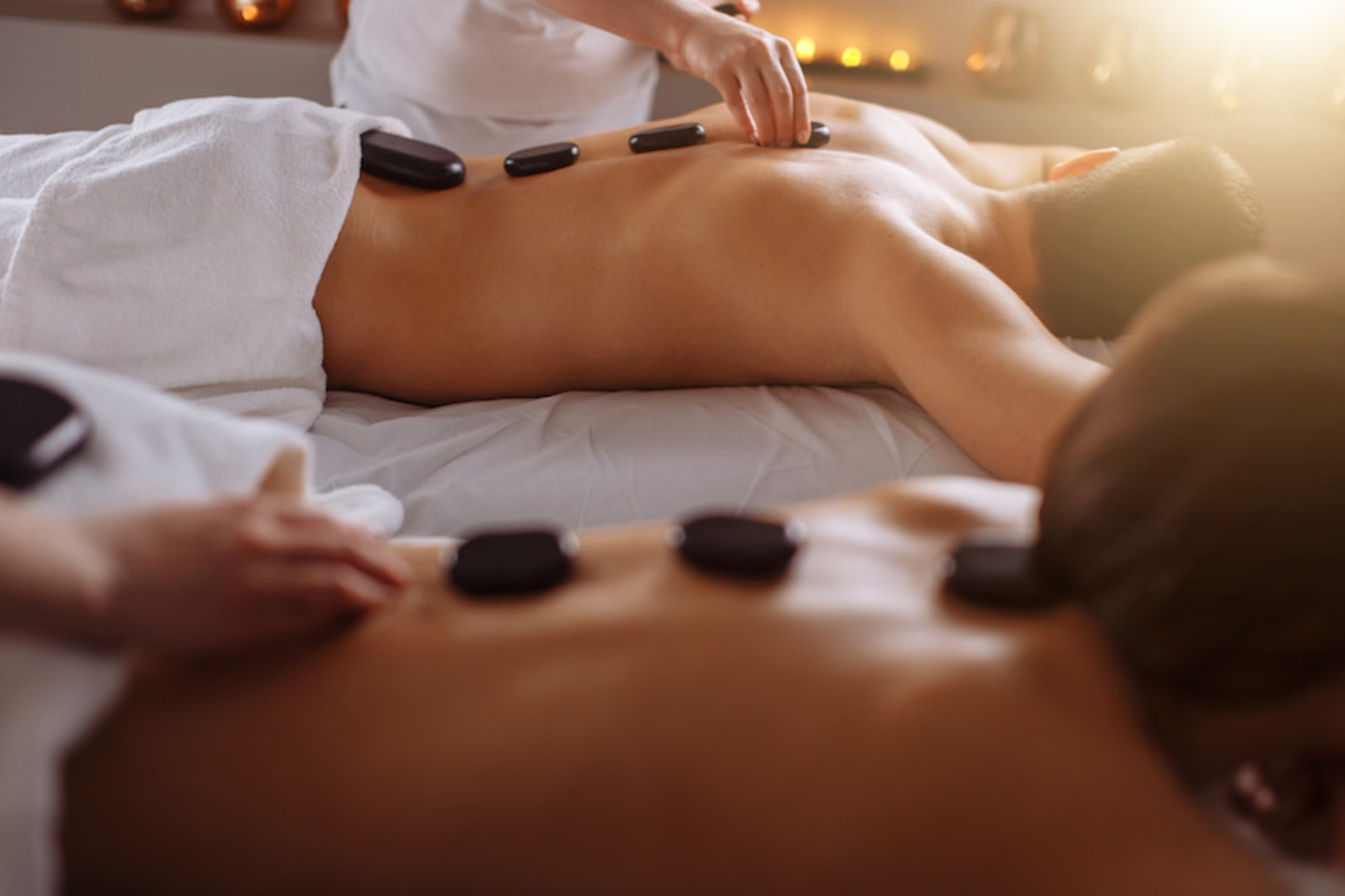 What is done in a couple's massage?
A couple's massage is usually done in a private, double treatment cabin with two massage tables and two different massage therapists who work simultaneously, but separately on one of the clients. The couple usually has a few minutes before and after the treatment to enjoy the serenity of the spa, where aromatherapy and ambiental music is common. At the Sábila Spa, couples will find an even more elevated experience for two, which includes access to the spa's hydrotherapy circuit and other elements, such as private jacuzzi sessions or sparkling wine and strawberries, depending on the service chosen.
Couple's Therapies at Sábila Spa
As a member, you have access to a number of treatments perfect for couple's looking to visit Sábila Spa together. Many couples indulge in a His and Hers Specialty, which includes a full-body massage, foot treatment, and private session for two in one of the spa's jacuzzis. This treatment is a great way to connect with your lover in an intimate setting. A Paradise Relaxation is another great option for couples. This treatment, performed under candlelight and with aromatherapy, involves a full-body exfoliation, followed by a relaxing massage, mini-facial, a private jacuzzi session with a bottle of sparkling wine and chocolate-covered strawberries. While there are plenty of options, these are the most popular among couples visiting the spa together.