When you scroll the social media pages of TPC Danzante Bay or Villa del Palmar at the Islands of Loreto, you'll see sunny blue skies over grassy greens and crystal clear waters surrounded by rugged mountains. In the photos, guests are practicing yoga on the beach, paddleboarding on the water, and golfing at TPC Danzante Bay. The posts look like they're straight from a postcard, and to see more of what makes this Loreto golf destination so incredible, browse the photos that have been tagged at Villa del Palmar at the Islands of Loreto and TPC Danzante Bay. When you do, you just might see some familiar names of celebrities and public figures golfing on vacation.
Byron Scott
Athletes love golfing at TPC Danzante Bay, including three-time NBA Champion Los Angeles Lakers player and NBA Coach of the Year Byron Scott. Now that his career has slowed down, he's savoring the sweeping views of Loreto while continuing to challenge himself on the course. Designed by Rees Jones, players will test their skills while taking in the beauty of the mountains and soaking up the ocean breeze.
Channing Photographer
It's this combination of stunning view and technical challenges that attracted golf photographer Channing Benjamin to TPC Danzante Bay, and what captured his attention most was the iconic 17th hole where the green juts out onto a cliff overlooking the Sea of Cortez. In his post, he offered this advice to his followers: "One day you will wake up and there won't be any more time to do the things you've always wanted. Do it now."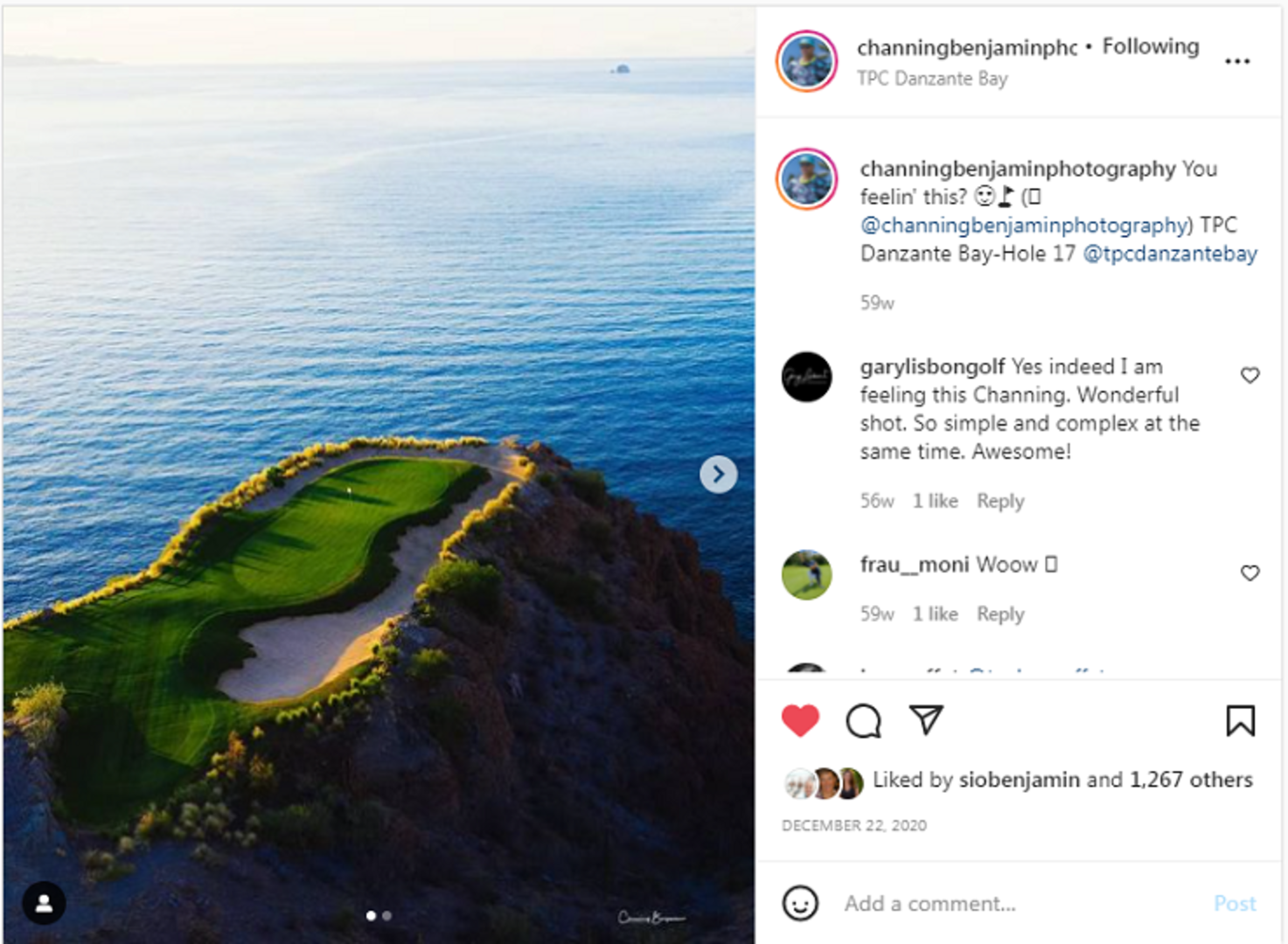 Good Good Golf
For their 556k subscribers, Good Good Golf has created videos covering everything from the world's top players to international golf courses, and with the attention and awards TPC Danzante Bay has attracted, they quickly set their sights on Loreto. Their video captures their match on the course while they describe its layout and challenges. For players getting ready to visit, the Good Good Golf video will give them a preview of what to expect.
Hannah Gregg
Pro golfer and founder of Short Game Gains, Hannah Gregg celebrated a magical moment in Loreto: a hole in one! With her products for golf drills, she sharpened her game on the 1,300-yard hole and also managed to score this incredible shot. Travelers can take advantage of the on-site pro shop where they can check out the latest technology and visit the course's putting green, the perfect spot for warming up and practicing drills.
Tania Tare
Tania Tare has amassed 314k followers who are in awe of her amazing trick shots, and her insane ability to juggle a golf ball with her club even got her featured in commercials. Between signing sponsorships and finding a spot on the LPGA Tour, Tania took time to put her skills to the test at TPC Danzante Bay where the calm sea and misty mountains created a stunning backdrop for her videos.
Ricardo Salinas Pliego
Mexican billionaire Ricardo Salinas Pliego sits at the head of Grupo Elektra, Seguros Azteca, and Afore Azteca, but when he's not busy running all these companies, he's exploring the world, including the wonders of Loreto. TPC Danzante Bay was part of his Loreto vacation, giving him and his buddies a chance to relax and enjoy the beauty of the course.
While you might not have the following that these celebrities do, you can vacation and golf like them in Loreto at TPC Danzante Bay. Soak up the course's sweeping views while putting your skills to the test.