If you've been to Loreto, you know that it's Mexico's last secret beach town. Unlike other cities that have been overdeveloped and crowded with tourists, Loreto is still a tranquil place where you can breathe in the fresh sea air while relaxing under palm trees, and during your stay, you'll be immersed in the local Mexican culture. Those who are lucky enough to have been here have fallen in love with its unique charm, and as you tell others about your travels, you'll likely hear these frequently asked questions about Loreto.
Where is Loreto Mexico located?
The charming town of Loreto, Mexico is located in the state of Baja California Sur, on the eastern coast of the Baja California Peninsula, which is bordered by the Pacific Ocean on one side and the Sea of Cortez on the other. Loreto is nestled in between the Sierra de la Giganta Mountains and the Sea of Cortez, which gives travelers endless adventures to discover.
Is Loreto Open for Tourists?
Yes, Loreto is and always has been a safe and welcoming place for world travelers. When the Coronavirus pandemic began to spread around the world, resorts and businesses in Loreto closed their doors while the city took time to research the best health and safety measures. With these in place, families are returning to Loreto. When travelers arrive, they'll fill out a health questionnaire, and if they're returning to the US or Canada, they'll need to get a negative COVID test before their flights home.
How safe is travel to Loreto Mexico?
Thanks to the preventive measures in place, Loreto is one of the safest destinations in Mexico to visit in 2021. Loreto has very few cases of COVID, and by following guidelines for social distancing and wearing a face mask, travelers can help keep the community strong. As you walk the cobblestone streets and hear neighbors greeting each other, you'll feel safe and welcomed in Loreto.
Does Loreto Have an Airport?
Despite being a traditional small town, Loreto has an international airport (Code: LTO), allowing travelers from all over the world to discover the beauty of the Sea of Cortez. The list of airlines offering service to Loreto is always expanding, giving you options to fly directly from across North America or to hop on domestic flights between Loreto and other Mexico destinations. As you look for flights, pay attention to new direct options that make travel quick and seamless.
What Airlines Fly into Loreto Mexico?
Its small-town quaintness is what makes Loreto so charming, but because of this, not all airlines fly here. However, every year, new airlines and routes connect Loreto with more destinations. From the US, Alaska and American Airlines provide service to Loreto, and WestJet connects the city to Canada. To explore more of Mexico, catch a domestic flight on Calafia Airlines or Volaris.
| | | | |
| --- | --- | --- | --- |
| Cities | Airlines | Flight Times | Connections |
| San Francisco | Alaska Airlines | 2h 40m | Nonstop |
| Los Angeles | Alaska Airlines | 1h 58m | Nonstop |
| San Diego - Tijuana | Volaris and Calafia | 1h 45m | Nonstop |
| Dallas | American Airlines | 3h 8m | Nonstop |
| Phoenix | American Airlines | 2h 4m | Nonstop |
| Calgary | WestJet | 3h 59m | Nonstop |
| La Paz | Volaris and Calafia | 45m | Nonstop |
Can you Drive to Loreto Mexico?
For more freedom when you travel, drive down the coast of the Baja Peninsula. From San Diego, this scenic drive takes around 16 hours, usually split up into two days of travel. Once you're there, you'll be able to get around quick and easily, even exploring attractions farther from the city.
Is Loreto Nice?
While it doesn't have the nightlife and parties of other Mexican destinations, Loreto has plenty of its own charms that make it ideal for family vacations, wellness retreats, and romantic getaways. The first permanent Spanish settlement in the Californias, Loreto has a historic plaza and local museum by the mission. Over the years, the city's grown to include an award-winning golf course, world-class spas, and luxury resorts, and with its natural beauty, it truly is paradise.
Can you Swim in Loreto?
The Baja Peninsula has rocky shorelines, and at its tip, the mixing of the Pacific Ocean and Sea of Cortez creates strong currents that are dangerous for swimmers. However, Loreto is safely located up the coast where the sea is smooth and calm. Whether you're swimming, snorkeling, or paddleboarding, you'll be able to relax and soak up the beauty of Loreto.
What is Loreto Known For?
Loreto is a historic and natural treasure that's known for many things. Its historic mission and ancient cave paintings will take you back in time. In fact, Loreto is a Pueblo Mágico, a Magical Town, an official designation from the Mexican government for cities that have maintained their local culture and traditions. The city is also known for having one of the country's best golf courses:
TPC Danzante Bay
. However, travelers are always enchanted by the ocean waters. From the Islands of Loreto rising ruggedly out of the sea to the Loreto National Marine Park, there's plenty of marine wonders to explore, and if you travel in the winter, you'll see grey and humpback whales breaching the surface of the water.
What to See in Loreto Mexico?
Loreto has attractions that will appeal to all sorts of travelers, giving you options to have an active or laid-back vacation. Get outside, and explore the Sea of Cortez to see tropical fish, sea turtles, and rays while scuba diving or snorkeling. On land, take a hike in the mountains, or play a round of golf. You can also see ancient cave paintings in the mountains and historic artifacts in the museum during your vacation.
Where to stay in Loreto?
Loreto is known for its warm hospitality that will make you feel completely at home and totally pampered.
Villa del Palmar at the Islands of Loreto
and
Hotel Santa Fe
are two of the best options for families, couples, and friends on Loreto vacations. Each of these hotels has its own amenities and attractions, and as you browse options, you'll find the perfect fit for your trip.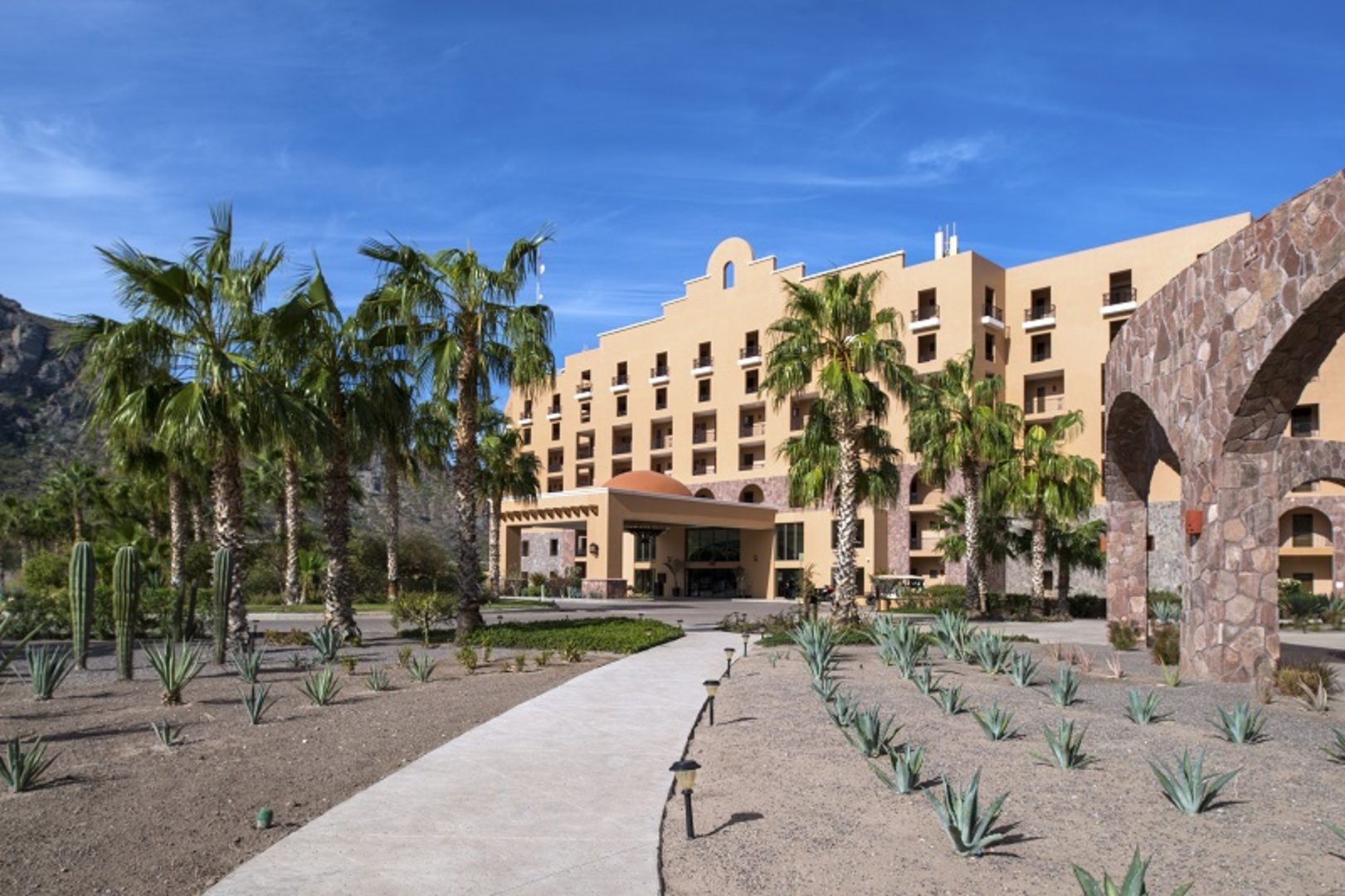 Where to Eat in Loreto Mexico?
Mexican cuisine is famous around the world, and in Loreto, you can sink your teeth into authentic dishes for every meal. Homemade bread makes
Pan Que Pan
makes delicious fresh pastries, hearty sandwiches, or hand-tossed pizzas. At
Black Bird
, you can do yoga with breakfast or listen to live music at dinner. For an elegant evening, head to Danzante Restaurant, and feast on fine cuts of meat paired with select bottles of Mexican wine, the perfect way to celebrate a special occasion or just the joy of being on vacation.