For those residing in the southwestern region of the United States or beyond, an expedition to Baja California Sur is undoubtedly a must at some point in your life. While Cabo San Lucas and San Jose del Cabo are popular choices, the intrepid travelers amongst us may be seeking the path less taken. Situated midway through Baja California Sur, directly on the Sea of Cortez, Loreto is the idyllic destination for those in search of unique adventures, and with direct flights from Phoenix to Loreto Mexico, this serene town with its laid-back ambiance, is the perfect option.
Why You Should Visit Loreto, Mexico
Loreto offers visitors Mexico in its rawest form, with a small population residing in a magical village that has only one stoplight, surrounded by some of the most stunning natural beauty in all of Baja. The town's cobblestone streets, colonial architecture, and adobe homes adorned with the quintessential bright colors of the Mexican culture create a unique experience that should be added to every traveler's bucket list. The allure of Loreto, however, goes well beyond its magic town vibes. The destination is home to a wealth of once-in-a-lifetime experiences, including whale watching, witnessing ancient cave paintings, golfing on the nation's only TPC course, and so much more.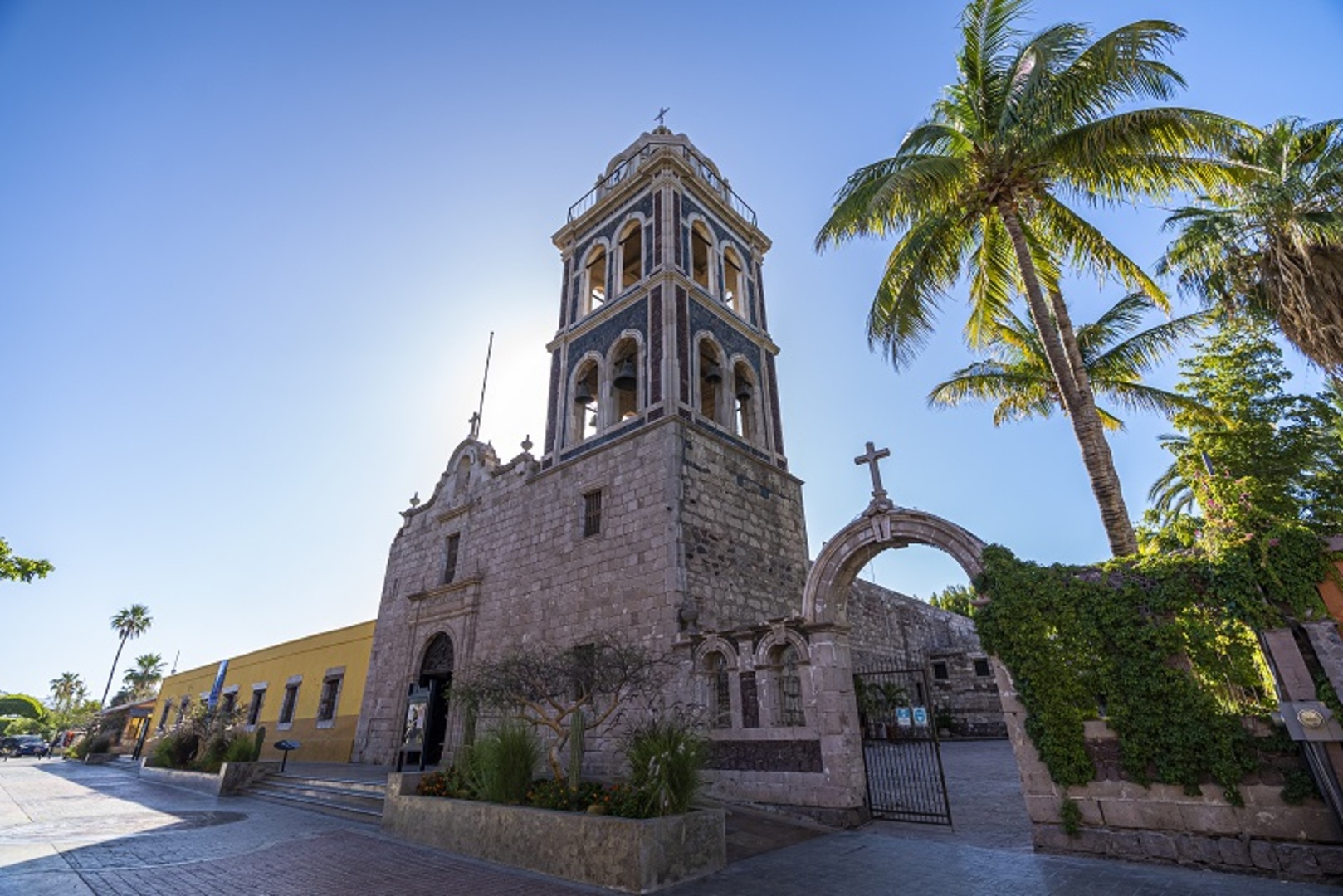 How to Get to Loreto
If you're interested in exploring Loreto's breathtaking rocky cliffs and teal waters, you must determine the best way to reach the destination from your location. While you could certainly embrace your nomadic spirit and traverse the border on a motorcycle or in a campervan, you may be more enticed to hop on a plane if you live far away. One option is to drive to Arizona and board a flight from Phoenix to Loreto, Mexico. If you do prefer a road trip, however, keep in mind that the drive from San Diego to Loreto takes approximately fifteen hours. Opting for one of the many direct flights to Loreto is a more efficient travel option if you're short on time.
Direct Flights to Loreto, Mexico
American Airlines offers direct flights to Loreto Mexico from both Phoenix, Arizona and Dallas, Texas. These flights open up a world of possibilities for those traveling from the United States and Canada, as they create a plethora of connections from other major cities. Loreto's international airport also serves as a hub for Alaskan Airlines, which offers direct flights available from other major cities, including Los Angeles and San Francisco. If you're in San Diego, you can also use the Cross Border XPress to find flights from Tijuana.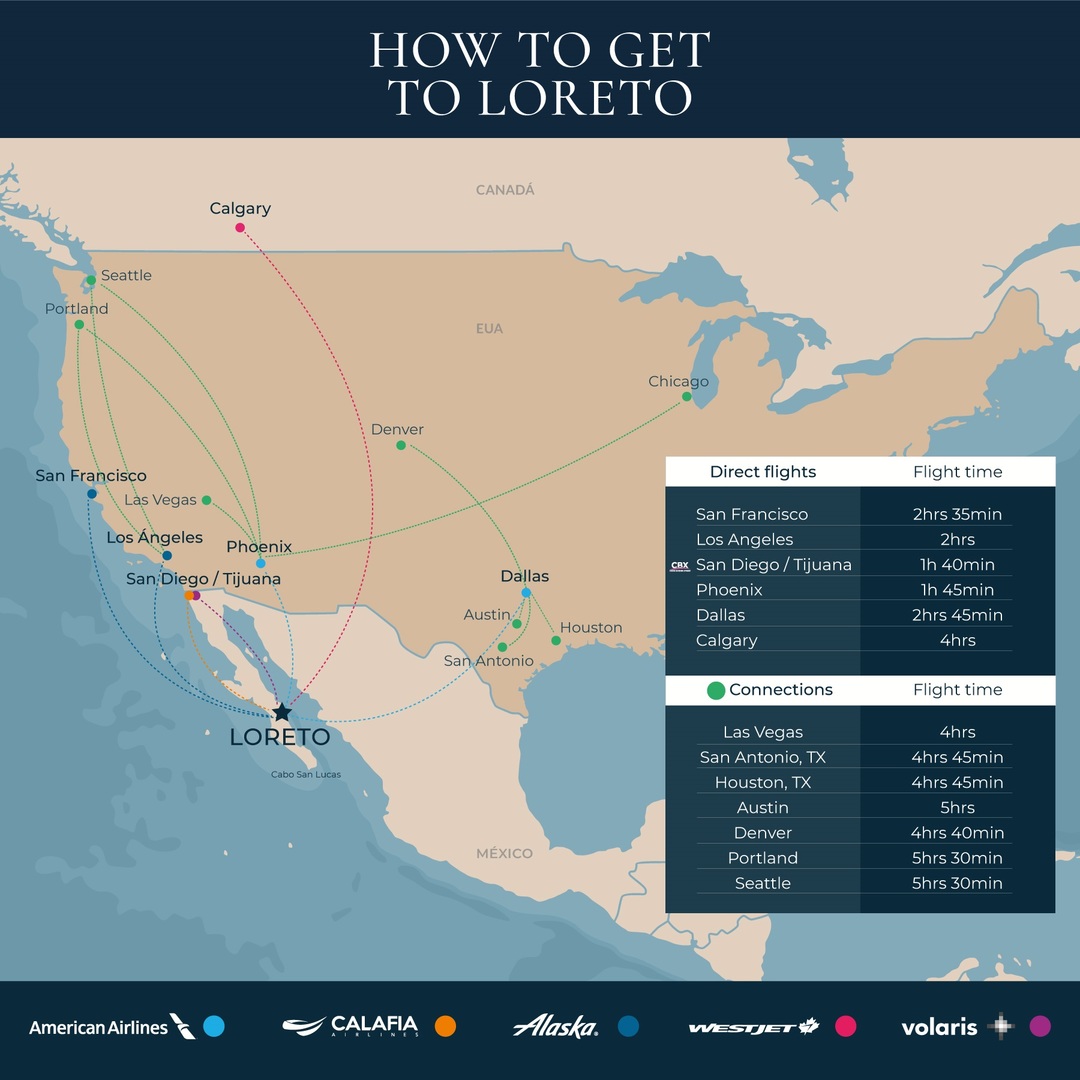 What to Do After You Arrive
As a member, you have myriad options when arriving in Loreto. For those who wish to head straight to the resort, relaxing poolside, in the reprieve of your suite's balcony, or down at the beach is surely enticing, but you can also delve into a number of other activities in and around the resort. One of the main attractions of Loreto is the marine life that thrives in the Sea of Cortez. While staying at the resort, you can go snorkeling, kayaking, and paddleboarding to see the abundant sea creatures that hang out by shore. For those who prefer to stay on land, Loreto has several nature reserves and national parks that offer hiking trails with scenic views of the desert and mountains, some of which you can enjoy at Villa del Palmar at the Islands of Loreto. If you're looking to stay downtown for a minute before checking in, history buffs can explore the historic town center and its 17th-century mission church that has been well-preserved over the years. Regardless of how you spend your time, you're sure to create remarkable memories that will stay with you always.