For the longest time, it seemed as if there were only a few places worth visiting in Mexico. Cabo San Lucas, Cancun, and Puerto Vallarta topped the charts for decades, but as the popularity of new destinations has been on the rise, more and more travelers are booking their vacations to places like Loreto. This stunning beachfront destination with its small town vibes has won the hearts of many and as word spreads about its irresistible charm, so does the availability of direct flights to Loreto, Mexico. If you're hoping to catch flights from Phoenix to Loreto, Mexico, you're in luck, because American Airlines offers a number of connections and direct itineraries, making it easier than ever to figure out just how to get to Loreto.
Service from Phoenix to Loreto Mexico
In 2020, American Airlines saw the need to increase the frequency of their flights from Phoenix to Loreto Mexico. Now, in just a little over an hour and 40 minutes, you can travel on direct flights to Loreto Mexico or make one of the many connections offered by the airline through their hub in Phoenix. In addition to the fantastic itineraries, American Airlines has provided great travel deals so that people can visit Loreto without breaking the bank.
| | | | | | | | | |
| --- | --- | --- | --- | --- | --- | --- | --- | --- |
| Date Range | Service Level | Sunday | Monday | Tuesday | Wednesday | Thursday | Friday | Saturday |
| Sep. 6 - Oct. 8, 2022 | 2 Fights / Week | | | | | x | | x |
| Oct. 10 - Nov. 2, 2022 | 3 Fights / Week | | x | | x | | | x |
| Nov. 3, 2022 - Jan. 16, 2023 | 5 Fights / Week | x | x | | | x | x | x |
| Jan. 18, 2023 - Aug. 24, 2023 | 6 Fights / Week | x | x | | x | x | x | x |
How to Get to Loreto

Prior to the new set of flights, getting to this Pueblo Magico was a bit more complicated. Other airlines offer direct flights to Loreto Mexico from important hubs on the west coast, such as Los Angeles and Tijuana, which is accessible via the Cross Border Xpress in San Diego, but figuring out how to get to Loreto from cities further east was nearly impossibly and extremely costly. Now with American Airlines' direct service from Phoenix and Dallas, there are plenty of connections for those wishing to visit this Baja paradise.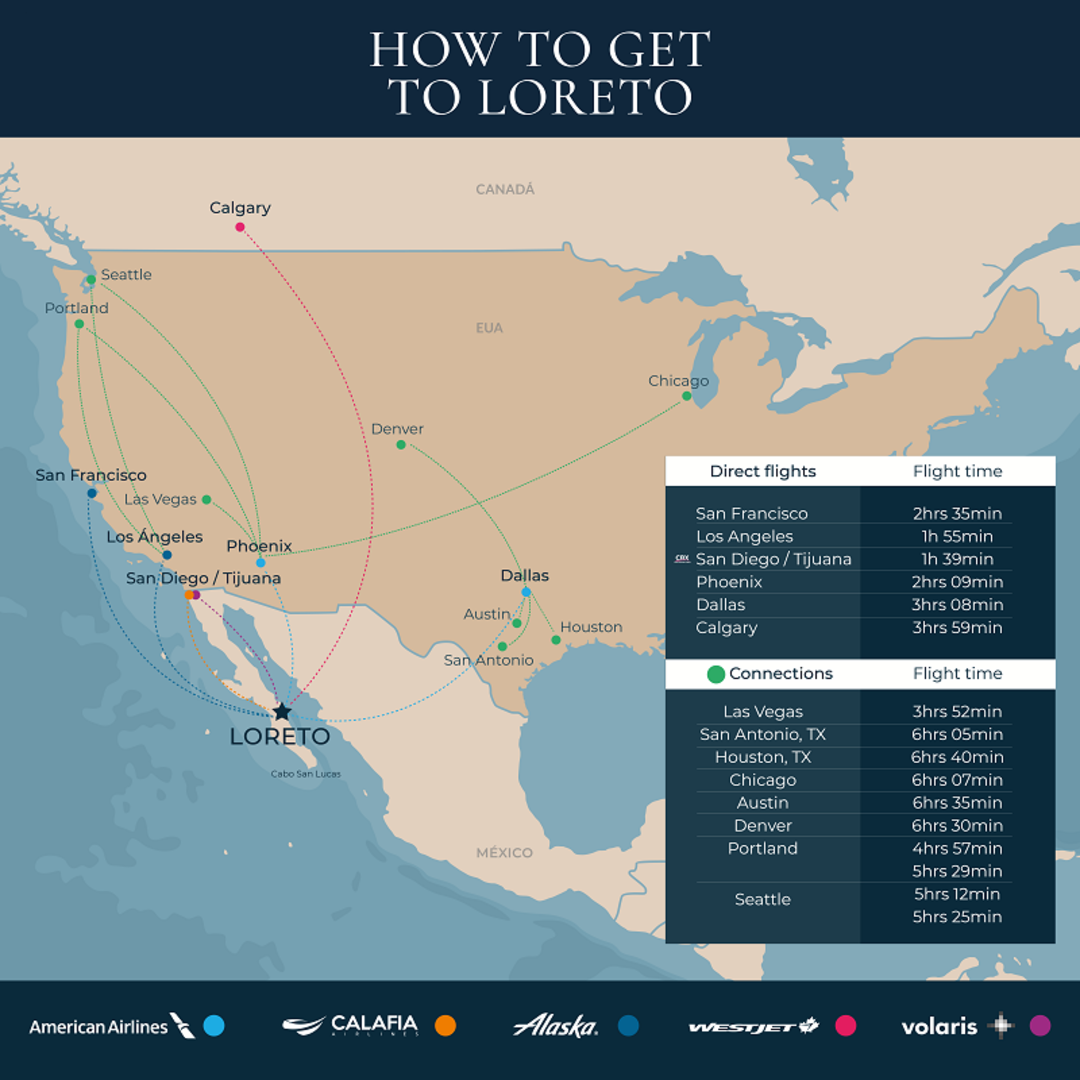 Road Trips to Loreto
If a road trip is more your style, touring Baja is incredibly easy and when you stay at Villa del Palmar at the Islands of Loreto, it's more rewarding than ever. Federal Highway 1, also commonly known as the Transpeninuslar Highway, runs the 1,063 miles from Tijuana to Cabo San Lucas, making it incredibly simple to stop in your favorite Baja towns. Loreto, and the Villa del Palmar at the Islands of Loreto resort, sit just off the highway, a road that is safely transitted by those making the trip. While it is a long drive from Phoenix to Loreto, Mexico, it is well worth the trip and the sights along the way are beautiful.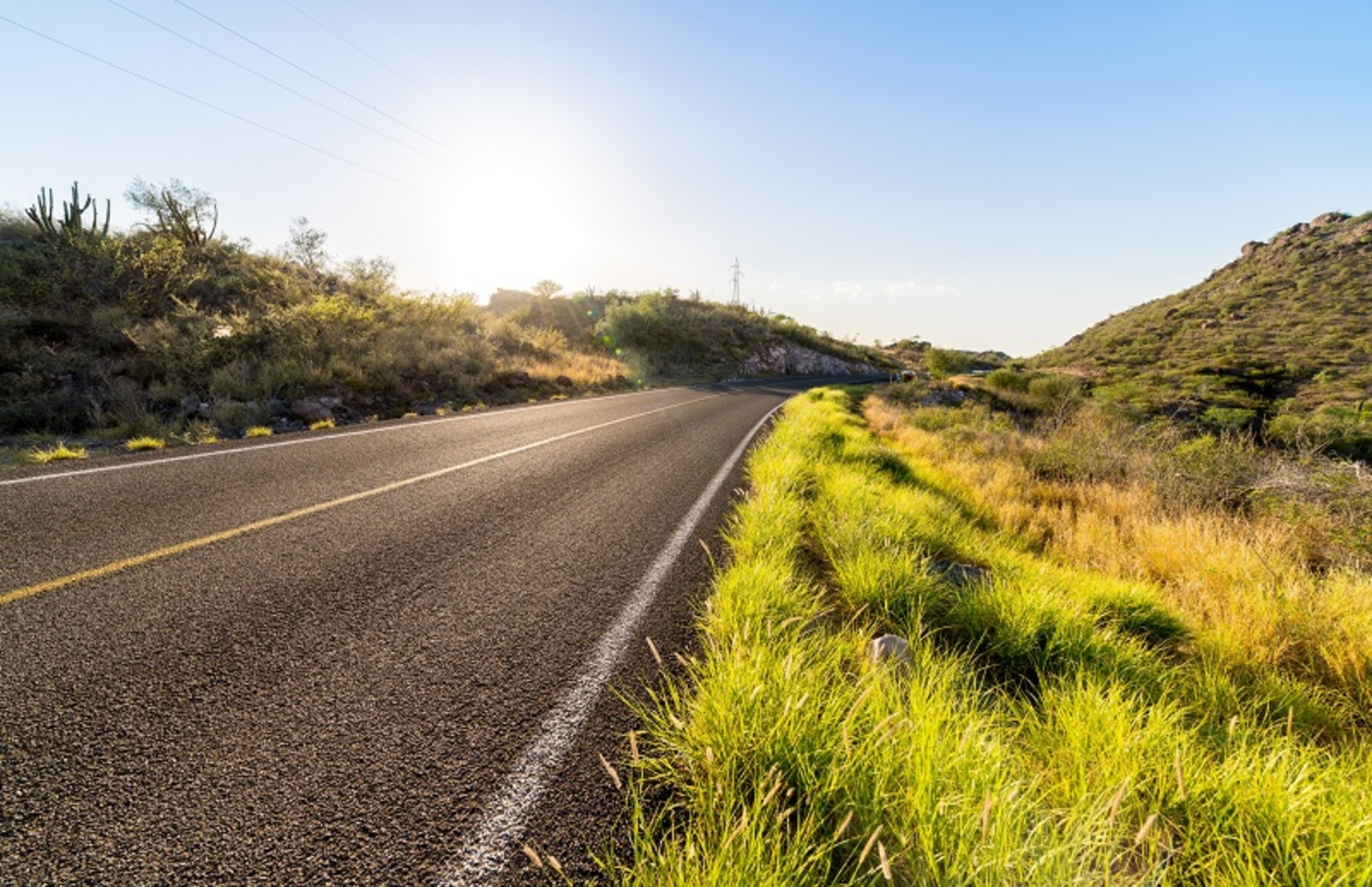 Things to Do in Loreto
Whether taking one of the many flights from Phoenix to Loreto, Mexico or finding a different way down to the beautiful Baja destination, you're sure to have a good time during your stay. There are so many exciting things to do on your vacation and with the newly added wing and bike path at Villa del Palmar at the Islands of Loreto, you'll have all the space to spread out and even more ways to enjoy your time. Soak up the sun while splashing in the pool, take a kayak out to explore the underwater aquarium that sits right off shore, head out for a hike or an early morning yoga class to start your day, or simply relax near the fire pit under a million stars. Whether you're an adventure seeker or hoping for a relaxing time, you'll find just what you need at Villa del Palmar.